♥♥♥♥♥♥♥♥♥♥♥♥♥♥♥♥♥♥♥♥
Rise to Alpha
With Alpha blood coursing through his veins, charismatic wolf Jake Louvière, can no longer deny his true nature. As his beast demands his rightful place within Acadian Wolves, he's forced to choose between killing his Alpha or leaving New Orleans forever. When a mysterious woman trespasses into the bayou, Jake is instinctively wary of the creature that is not wolf. Inexplicably drawn to her, he attempts to resist her magic as it weaves a seductive spell. As quickly as she appears, the dangerous beauty is kidnapped by a powerful New York vampire, and Jake swears retribution against an old adversary.
For centuries, Kai Beckett concealed her true identity from those who would steal her ancient powers. Risking everything to save her sister, she searches for the Alpha who'd left San Diego to return to his Cajun roots. Jake, a mate worthy of her spirit, seeks to tame her wild nature but she is not one to easily submit. As Kai surrenders to her attraction to the Alpha, she embraces her darkest fantasies.
From New Orleans to Southern California, Jake and Kai are surrounded by intrigue and danger. Learning to trust each other, they fight lethal enemies and the irresistible connection binding them together. As they spiral into an erotic adventure, will Jake acknowledge Kai as his mate? With a nefarious enemy seeking to capture her, will Jake rise to Alpha, saving both Kai and his pack?
*Warning: This book contains several erotic love scenes, including m/f/m ménage and is intended for adult readers only.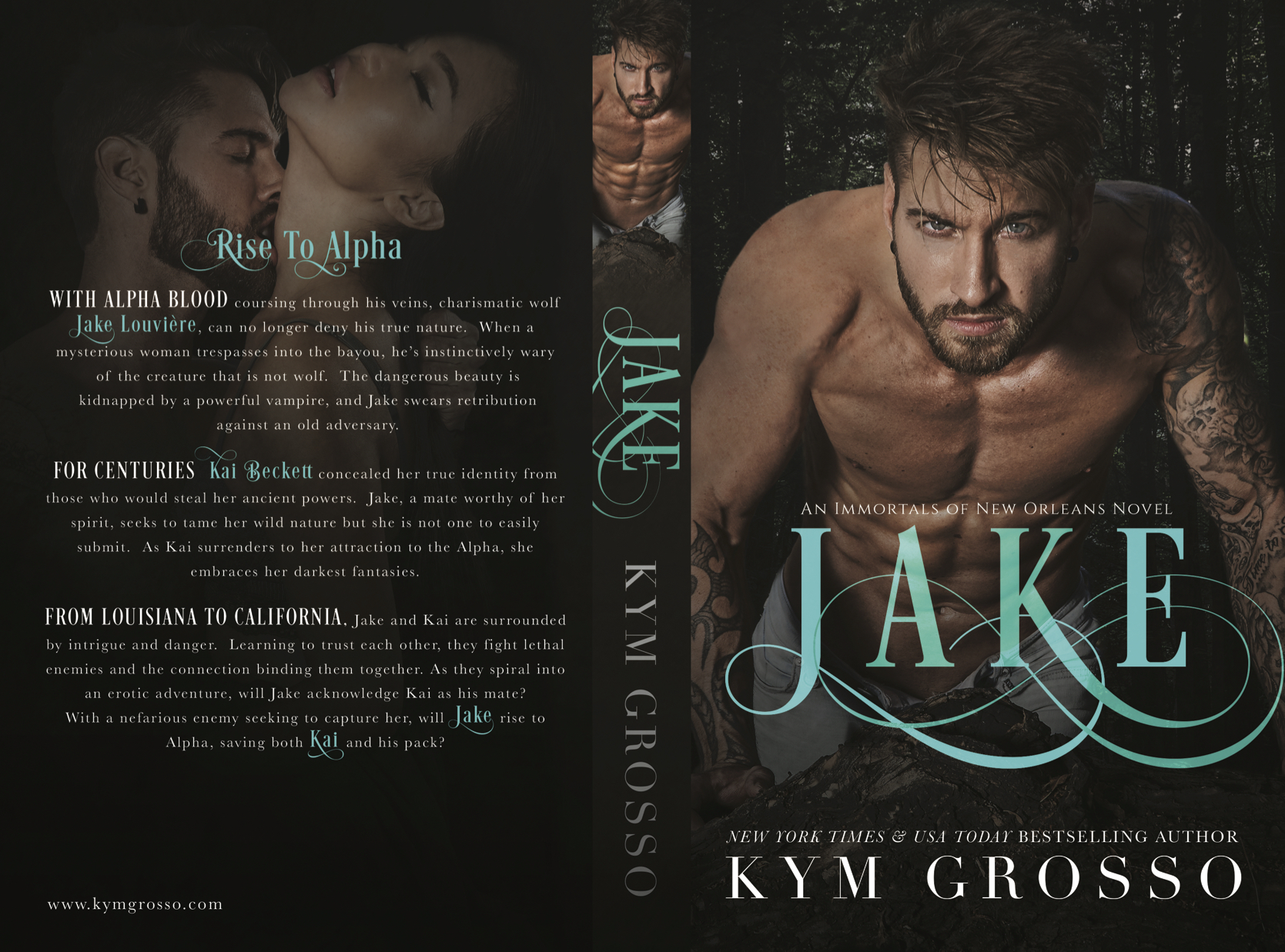 ♥♥♥♥♥♥♥♥♥♥♥♥♥♥♥♥♥♥♥♥
~ ARC was given for a Blog Tour ~
The 8th book of Ms. Kym Grosso's Immortals of New Orleans. As a follower of her books, also a reader, I was excited on how this will turn up. I enjoyed the previous sneak peak of each book at the end of the previous books, and I must say, I look forward to reading this book. I must say, it was better that I was expecting.
As much as I'd like to say that I knew Jake from book one, I can't. It was hard to place his name, I only knew him on Jax's book. But it did not stop me from liking him.
"I think we both know what's happening here between them. I can't say I'm thrilled about how this is goin' down, but I can say that number one, this mating shit…I'm going to run like hell if it happens to me. It's messy, complicated stuff. You do not want to even try to understand it." ~ Jake talking to Finn about mating (Excerpt from Jax.)
I like his personality. I mean, he was so different for the other Alpha's in the series. He denied his nature up to the point that he forcibly handed his pack to another Alpha. Then again, Fate will never be deterred. I had a strong desire to read Jax, so I did. As I write this post, there are some lines that would made you laugh at Jake on how he view mating. Hence, Kai. It took one special being for him to realize his true calling.
Kai, on the other hand, I can clearly understand her reluctant to meet with supernaturals. It is all because of what she is. The life she had was not something I would wish upon anyone. And it did not help matters that Jake is an Alpha, at the same time, both of them are attracted to each other. Throw in Quint, and we have an unlike trio.
I must say, in Jax's book, they nearly killed each other, but here? Man! I am left speechless on how they interacted with each other.
Jake's book made me cry several times. I can feel the hopelessness of Kai. How she did her best to conceal her true nature, trying so hard to avoid people for they would either kill her, or they would die. And each time she doubts herself, Jake would banish it by proving himself. And that made me realize how much he cares.
Both of them denied their true nature. An Alpha, who is reluctant to part with the pack he love, and a being that is so rare, that they killed those who protect her. Yet Fate bought them together. Not to posses each other, but to make them realize their role in the world they live in.
The snippets of Dom's past was traumatic too. I had to stop myself for brawling like a baby on how her kids died. Quint's part with sharing his past was something that I was not expecting. I mean everyone thought of him as ruthless, during that moment? He was a different man altogether.
Each characters in the book had their own problems that they need to deal with eventually. Ms. Kym just gave a clue on their past.
I think it is safe to say that Jake was not expecting Kai to "appear" in his life. Nevertheless, his wolf chose and the man accepted. As for Kai, she believe she will spend the rest of life alone, but Destiny prove her wrong.
All he wanted was to protect her, and all she wanted is to find her lost sister. And falling in love? None of them wanted it, yet it happened. It was the clincher in this book. When the mating mark appeared, I cried. It was the most pivotal moment in the book.
I gave it 5 stars, due to the tears it made me shed. From Quint and Jake's banner, to the way Jake treated Kai.
More power! I look forward to Quint's book.
♥♥♥♥♥♥♥♥♥♥♥♥♥♥♥♥♥♥♥♥
♥♥♥♥♥♥♥♥♥♥♥♥♥♥♥♥♥♥♥♥
♥♥♥♥♥♥♥♥♥♥♥♥♥♥♥♥♥♥♥♥
Kade Dark Embrace (Immortals of New Orleans, Book 1)
AMAZON US I AMAZON UK I NOOK I iBOOKS I SMASHWORDS I AUDIBLE
Luca's Magic Embrace (Immortals of New Orleans, Book 2)
AMAZON US I AMAZON UK I NOOK I iBOOKS I SMASHWORDS I AUDIBLE
Tristan's Lyceum Wolves (Immortals of New Orleans, Book 3)
AMAZON US I AMAZON UK I NOOK I iBOOKS I SMASHWORDS I AUDIBLE
Logan's Acadian Wolves (Immortals of New Orleans, Book 4)
AMAZON US I AMAZON UK I NOOK I iBOOKS I SMASHWORDS I AUDIBLE
Léopold's Wicked Embrace (Immortals of New Orleans, Book 5)
AMAZON US I AMAZON UK I NOOK I iBOOKS I SMASHWORDS I AUDIBLE
Dimitri (Immortals of New Orleans, Book 6)
AMAZON US I AMAZON UK I NOOK I iBOOKS I SMASHWORDS I AUDIBLE
Lost Embrace (Immortals of New Orleans, Book 6.5)
AMAZON US I AMAZON UK I NOOK I iBOOKS I SMASHWORDS I AUDIBLE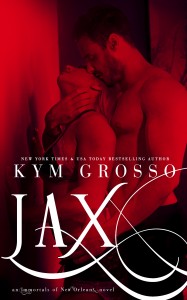 Jax (Immortals of New Orleans, Book 7)
AMAZON US I AMAZON UK I NOOK I iBOOKS I SMASHWORDS I AUDIBLE
♥♥♥♥♥♥♥♥♥♥♥♥♥♥♥♥♥♥♥♥

Kym Grosso is the New York Times and USA Today bestselling author of the erotic paranormal series, The Immortals of New Orleans, and the contemporary erotic suspense series, Club Altura. In addition to romance novels, Kym has written and published several articles about autism, and is passionate about autism advocacy. She is also a contributing essay author in Chicken Soup for the Soul: Raising Kids on the Spectrum.
In 2012, Kym published her first novel and today, is a full time romance author. She lives in suburban Pennsylvania but has a not-so-secret desire to move to a beach in southern California where she can write while listening to the roar of the ocean.
Author Links:
Facebook: https://www.facebook.com/KymGrossoBooks
Twitter: https://twitter.com/KymGrosso
Website: http://www.kymgrosso.com/
Pinterest: https://www.pinterest.com/kymgrosso/
Newsletter Sign-up: http://bit.ly/1McY6DO